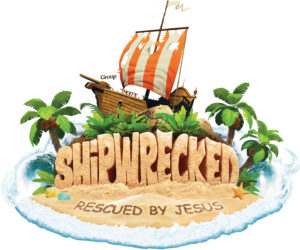 UPDATE:  THE VACATION BIBLE SCHOOL DATES HAVE CHANGED!!
VBS 2018 will be held on June 11th-13th, 2018, at 5:45-8:15 pm at Our Savior's.  A parent's program will be at 7:45 pm on Wednesday, June 13.
Our theme this year is "Shipwrecked – Rescued by Jesus" and we look forward to seeing children age 4-grade 6.
Watch for a postcard which will be sent out to Sunday School families in the next week!!
If you're interested in helping with snacks, games, etc. please contact Heather (201-0019). 
Also, if you could bring in any empty water bottles and/or paper towel or toilet paper cardboard rolls, we are in need of them for crafts.  There is a list of snacks needed on the youth bulletin board at OSL.