Our Weekly Sunday Worship Schedule:
9:00 am Melo  Worship Service
10:45 am Our Savior's  Worship                                                        Service
9:30 am OSL Sunday School; 9:30 am OSL bible study
10:00 am Melo Sunday School and coffee fellowship
10:15 am OSL coffee fellowship
OSL service is broadcast on Cable Channel 13 at 3:30 pm on Mondays.
 Traditional Worship

Traditional Worship is grounded in Word and Sacrament, family friendly, and formed in the traditional language and liturgies of Lutheran worship.  Holy Communion is celebrated on the first and third Sunday of each month. Hymns are accompanied by organ or piano, and musical offerings are provided by the Sunday School children, the Choir, and OSL/Melo and community members who wish to share their gifts in praise to God. Enjoy fellowship in the Narthex prior to the OSL service from 10:15 until 10:45.
Lay people are invited to participation in leadership of our traditional worship.  Read below for ways to be involved.  At times, our congregation needs a lay person from our parish to plan and lead the entire service when our Pastor is not available.  If you are interested in being considered for this service please contact Pastor Janet or the current OSL Council President.
All announcements for the bulletin are asked to be submitted by 2:00 pm Thursday afternoons to our parish secretary.
Holy Communion
We believe and teach in Christ's Real Presence in the Sacrament of the Altar, that it is the sign of unity instituted by Christ Himself for His Disciples. Christians of all traditions – whether Protestant, Roman Catholic or Easter Orthodox – who regularly partake of the Lord's Supper, are welcome to receive Communion at OSL and Melo worship. Grape juice is available if you ask at communion. Children who do not yet receive Communion may still come forward for a blessing.  Gluten-free communion wafers are available for people with Celiac disease. Please ask the pastor or an usher before the service.
Lenten Mid-Week Worship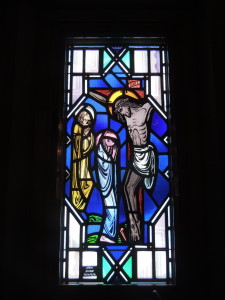 During the 40 days leading up to Easter (beginning Ash Wednesday), Our Savior's offers worship services in combination with the other churches in Warren.  Lenten services are at 7:00 PM on Wednesdays.  The schedule is posted within the bulletin, on the message board by the front door, and in our monthly newsletter.
Services that always occur at Our Savior's include…
Ash Wednesday
Maundy Thursday
Good Friday
Easter Sunrise
Easter Service
How can I be involved in Traditional Worship?
Communion Servers are current and past members of church council.  At times other people within the congregation are asked to step forward to serve so please help when asked.    
Ushers and Scripture Readers and Coffee Hosts are organized monthly by service group leaders.  At our church you are assigned to a month.  That is your service month.  The group leader calls to ask if you can usher, read scripture, and provide treats as a coffee host.  If you usher, there is a one page instruction sheet in the back of the church.  If you have not been called to serve and would like to be assigned to a month call the parish office.
The Choir is open to anyone of any age who wants to sing! We rehearse on Wednesday from 7-8pm in the choir area of the sanctuary and sing for OSL worship services, the candlelight Christmas service, and Easter service. You may just show up for rehearsal or contact Joan Peterson.
The Handbell Choir doesn't have a current rehearsal time.  If you are interested let the parish secretary know so she can include you on her list.
Soloists or Ensembles or Musicians who wish to provide a musical offering at worship or accompany hymns and liturgy please contact Katie Benson and/or Joan Peterson.
Altar Guild members prepare the elements and altar for Holy Communion, and also attend to the paraments and baptism supplies.  Worship and Evangelism Committee members head up this effort but are always looking for people to help.
Those with Computer Skills who want to be involved in the PowerPoint and other technical additions that will enhance our Worship can volunteer by contacting Pastor Janet.
How can I be involved in other ways?
Fine Art and Decoration Members who have ideas related to adding seasonal fine art and decoration to our worship spaces and other areas of the building are encouraged to contact Pastor Janet.
Drama We occasionally supplement our worship and proclamation of the word with dramatic skits or monologs.  If you have acting skills you'd like to offer, please contact Pastor Janet.